2019.06.26 Wed
28st June (Fri) 19:00~GINZA8 CULTURAL MIXED SALON TOKYO CANVAS ~ VOL.1 「Trainee Lounge」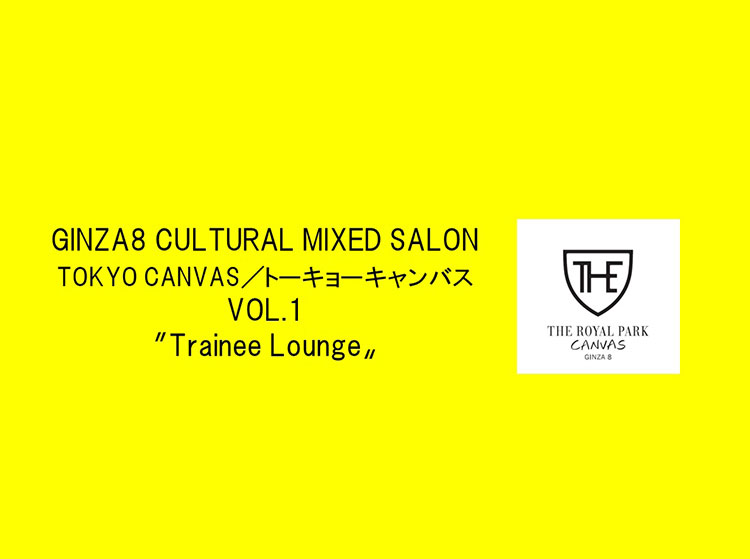 "Tokyo Canvas" is a cultural mix event where we feature trend-setting Tokyoites in freely organizing events and to provide a place for these people to speak and share their mind.
The venue will be held in a community space of The Royal Park Canvas Ginza 8: Canvas Lounge. Opened this past March, this newly opened location's concept is "Make It Happen – A place to gather for new creation –".
On the last Friday of each month, we invite Tokyoite with various backgrounds and genre who are making interesting scenes in Tokyo to organize events, as freely as they like.
At times there will be a talk show;
At times there will be a live performance;
At times the space will become a cultural mix salon where we combine with food content.
Join us for the "Tokyo Canvas" Vol. 1 that is a mixed party「FASHION」×「MUSIC」×「DRAG QUEEN」.
Try some special dishes from the Opus restaurant located on the top floor of the building. Opus has become the latest must-go dining spot in Ginza. Grab a bite for a fee at the 2nd floor lounge while it's still available.
We welcome you to join us at this new social hang out spot. A new hotel without the word "hotel" in the hotel name may be your next favorite place in Ginza; a place where tradition and innovation co-exist.
************************************************************************
~ Ginza 8 Culture Mix Salon "Tokyo Canvas" VOL.0 LAUNCH PARTY ~
DATE:

2019/6/28(Fri)19:00-23:00

MUSIC SELECTOR:

CHANKEN
UNO FUMI
YUYA NARA
MASAKUNI
and more…

BAR QUEEN:

DURIAN LOLLOBRIGIDA
Ms.POSEIDON

BAR BOY:

NAOKI

VENUE:

The Royal Park Canvas-Ginza8 2F Canvas Lounge
8-9-4 Ginza, Chuo-ku, Tokyo[access]

ENTRNCE:

¥1,000 WITH1DRINK

PRODUCE:

Transit Crew Attendant
※Cash-on drink bar
************************************************************